Being Prepared is Your Responsibility and Civic Duty
Emergency Case encourages people to become prepared citizens and not be dependent on the government, especially after a disaster. Emergency services will be stretched extremely thin in the aftermath of any disastrous event.
Preparing for an emergency allows first responders to help more people who truly need assistance. In any disaster, it's up to you to:
Be prepared

Have a plan 

Stay informed
The cost of not being prepared could be worse than any disaster you would face.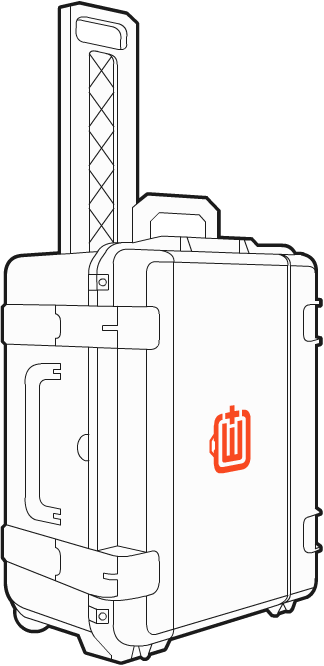 Pull out handle for easy transport
TSA approved locking capabilities
Air-tight, waterproof and durable casing
Easy-grip comfortable handles
Compact/Comprehensive emergency case: Compact emergency-grade supplies cover all U.S. Government recommended basics
Easy-roll/flexible transport: Easy-rolling wheels and telescoping handle avoid back strain
Durable protection for supplies: Rugged, rolling, lockable, waterproof, injection molded hard case
Quick-access organization: hinged case lid; each system packaged in easily identifiable cubes; instruction sheet included with each system
Long life: Water, food, batteries have up to a 5-year shelf life
Our Emergency Case product lines are the perfect solution for families who want to be prepared but don't know where to start. BEING PREPARED IS YOUR CIVIC DUTY
Disaster preparedness should not be left to chance or second guessing. Emergency Case will give the confidence you need in knowing you and your family are safe and prepared.
Order Now
ALL HAZARDS EMERGENCY CASES
Emergency Case was innovatively created to save you time and money by taking the "guessing" out of what emergency supplies you would need in any disaster.
Order Now
HAVING PEACE OF MIND
Keeping families, communities and businesses safe in any disaster is our priority. Emergency Case is a team of former military, law enforcement, first responders and business professionals who aim to provide disaster relief solutions to those affected by natural disasters, be they domestic or international.
By using the skills, training and real world experiences of our team, we are committed to providing disaster preparedness solutions and peace of mind Before Disaster Strikes.
Order Now
Our team of experts spent years on product research and development before choosing reliable survival gear so you wouldn't have to.
Emergency Case is revolutionizing the way we approach disaster preparedness.
The 5 Kit Emergency System surpasses the U.S. Government suggested preparedness guidelines and more.
Our easy rolling, highly durable, airtight, waterproof cases contain a 5 kit emergency system including:
Food & water survival kit (96 hours)
Sleep & shelter survival kit
Advanced medical survival kit
Tools & safety survival kit 
Health & hygiene survival kit
Our Comprehensive Emergency Cases have everything you need for any type of natural or man-made disaster.