1 Mini Sawyer Water Filtration System (100,000 Gallons)
6 3600 Calorie Food Bars (5 Year, Coast Guard Approved)
30 Ready To Eat Sandwiches (3 Year)
30 Air-Tight Sterilized Water Pouches
2 Collapsible Water Bottle (Mini Sawyer Compatible)
1 Water Transport Container (2.5 Gallons)
3 Water Resistant Organizing Packing Cube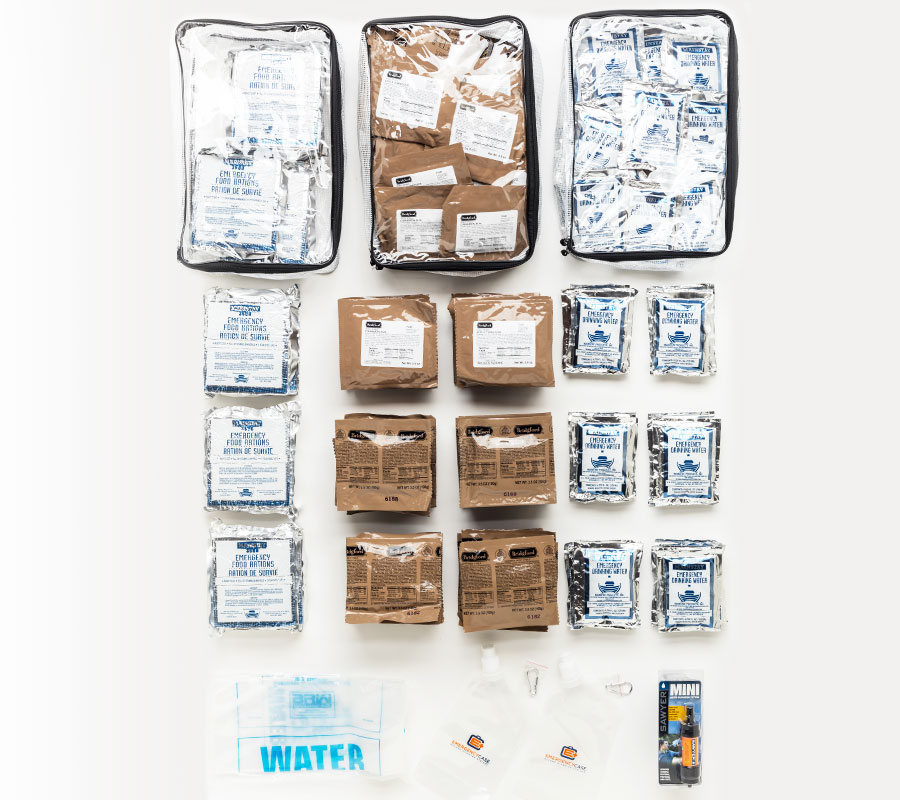 MAINSTAY Emergency Food Rations
Mainstay Emergency Food Rations has provided great tasting food for over 20 years. They are always a popular choice primarily because of their vanilla/lemon flavored 'cookie dough' taste. Both young and old find these bars tasty.
Mainstay™ 3600k Key Benefits:
5 Year Shelf Life
Non-Thirst Provoking
Withstands Wide Temperature Extremes… -40° F to 300°F (-40°C to 149°C)
Ready to Eat: Each package contains 9 pre-measured 400 calorie meals
No water, preparation or cooking necessary
Contains no cholesterol or tropical oils
Meets the US Coast Guard standards (160.046/23/0).
Meets the stringent Department of Defense (SOLAS 74/83) guidelines.
Enriched with vitamins and minerals exceeding the RDA requirements.
Mainstay™ is KOSHER APPROVED and it meets the dictates for Halal.
Mainstay Emergency Food Food Rations have been specifically formulated to meet strict U.S. Coast Guard and Department of Defense specs. They have been made to be non-thirst provoking. Each bar exceeds the RDA requirements of vitamins and minerals. They're also high in energy and low in protein (You don't want foods with much protein because they require much more water intake for digestion. They make you thirsty, too. Water may be a very scarce item in a disaster)
Contains no cholesterol or tropical oils, and has less than 29% fat. Nine pre-measured 400 calorie bars… One per meal (3) for 3 days, or a total of 3600 calories per package! Provides a very "full" feeling after consuming.
Each unit is protected by a vacuum sealed foil pouch and has a 5 year shelf life. Not affected by extreme temperature fluctuations (-40 F to 300 F).
Mainstay Food Ration Ingredients & Nutritional Information:
Net Wt. 24 oz.
Serving Size:. 1 Bar (2.67 oz or 76 grams)
Servings Per Unit: 9 individual bars
Ingredients: Enriched Flour, (Added) Vitamins A, B-1, B-2, D, E, B-6, B-12, Niacin, Iron, Folic Acid, Magnesium, Pantothenic Acid, Calcium, Phosphorus, Vegetable Shortening, (Partially Hydrogenated Soybean and/or Cottonseed Oils), Granulated Sugar, Cornstarch, Corn Syrup, Natural Lemon Flavor, Artificial Butter Flavor, Artificial Vanilla Flavor, (Tartrazine, FD&C Yellow#5, FD&C Red #40), Artificial Color, Ascorbic Acid (Vitamin C), Gamma/Delta Tocopherols as a natural antioxidant.
Each package is stamped with its manufacture and expiration date.
Nutrition Facts per serving:
Calories 400 Calories from fat 210 %Daily Value*
Fat 23 g 36%
Sat fat 7 g 34%
Cholesterol 0 mg 0%
Sodium 23mg 1%
Total Carbohydrates 46 g 15%
Dietary Fiber 2 g 9%
Sugar 14 g
Protein 3 g
Vitamin A 50%
Vitamin C 60%
Calcium 50%
Iron 10%
Thiamin 15%
Riboflavin 25%
Niacin 30%
Vitamin D 50%
Vitamin E 25%
Vitamin B-6 90%
Folic Acid 30%
Vitamin B-12 20%
Phosphorus 40%
Magnesium 30%
Pantothenic Acid 100%
MINI Sawyer Water Filtration System
Weighing only 2 oz. and sized to fit in the palm of your hand, the Mini Sawyer Water Filter is one of the lightest, most compact filters available, and you can use it to drink straight from the source. Along with our water filter, we provided collapsible water bags for extra support.
Filter rated up to 100,000 gallons
Hollow-fiber membrane offers a high flow rate; sip on the Mini like a straw and it filters the water while it's on the way to your mouth
Get down close to the stream or lake and use the filter to drink straight from the source, or fill your water bottle and insert the filter to start sipping
Filter will also fit the threads on the included Sawyer 16 fl. oz. reusable pouch that you can fill at a lake or stream and then use to squeeze water through the filter
0.1-micron filter physically removes 99.99999% of all bacteria, such as salmonella, cholera and E.coli; removes 99.9999% of all protozoa, such as Giardia and Cryptosporidium
Use the included syringe to backflush the filter to maintain a high flow rate
Filter will also fit the threads on most bottles of water that you buy at a grocery store; can also be used as an inline filter (adapters and hoses not included)
Avoid freezing this filter; freezing may ruin the hollow-fiber membrane
Includes Sawyer Mini water filter, one 16 fl. oz. reusable squeeze pouch, a filter tip cap and a cleaning syringe
MAINSTAY Emergency Drinking Water Packets
Fresh, Safe Drinking Water is THE Most Critical Survival Need in a Disaster.
Attention: Government Agencies, Law Enforcement, Military & Public Safety Officials – Be prepared for emergencies on land, or on the water with Mainstay engineered packaged water supplies. Each packet contains 4.225 oz. /125 ml of lifesaving purified water for use in emergency and rationed survival situations. Space-efficient storage for home, auto, cabin, boat, aircraft and liferaft.
MAINSTAY® Water Pouches are purified and bacteria free water products specifically designed for emergency preparedness, first responders, and disaster victims. They are an efficient, safe, and effective solution to any contaminated water crisis. We selected this product for its high standards. Compact Survival Hydration Ration, 72 Hour Survival Kits, Emergencies, Disaster Relief, Camping, Hiking, and Other Outdoor Activities. These MAINSTAY® purified emergency drinking water pouches are tailored specifically for the individual consumer to small Businesses and up to large scale Corporations & Government organizations. These packaged water pouches can be easily stored in most any environment to be available in the event of an emergency. Our team of preparedness experts are here to assist you in your needs to better prepare your Organization before disaster strikes. Never drink questionable water, untreated water or salt water. MAINSTAY® emergency water ration pouches can withstand temperatures ranging from –40° F to 230° F and offer a dependable potable water supply for years without the need for rotation schedules and additional purification. Can be frozen without any adverse effects, and it can also be used as cold compress. U. S. Coast Guard approved.At times of high demand, these MAINSTAY® water pouches may be substituted with a competitor's water pouches of equal or higher value.
5 Year Shelf Life
No need for twice annual rotation
Purified / filtered safe drinking water
No need for concern proper containers being used
Single serving eliminates loss
Superior tri-laminate packaging extremely durable
Easy to dispense and ration
Perfect for storing in a vehicle, boat, RV, etc
The standard water package for emergency kits
Storage at all temperature extremes, may be frozen
Meets or exceeds U.S. Coast Guard standards
US Coast Guard approved
No oxygen transfer
Pre measured easy to dispense packets
Cost and labor efficient
Minimum labor involved – no need for cups
BRIDGFORD Ready-To-Eat Sandwiches
Originally developed for the United States Military, Bridgford Ready to Eat Sandwiches are now incorporated into the United States Military "First Strike Ration" MRE.
The sandwiches have a 3-year shelf-life from the date of manufacture if stored at 80 degrees Fahrenheit. Sandwiches can be stored at 100 degrees for 6 months.
Ultra high-strength polypropylene copolymer resin
UV, solvent, corrosion and fungus resistant (MIL-STD-810F)
Complete gasket seal makes these cases absolutely watertight (MIL-STD-C-4150J)
Automatic ambient pressure equalization value (MIL-STD-648C & IP67)
Resistant to corrosion and impact damage
Molded-in hinge
Patented "trigger release" latch system
Rubber over-molded cushion grip handle
Stainless steel locking loops to accept a customer supplied lock
Industrial strength injection molded pull handle with push button release
In-line skate style wheels for easy transport
TSA accepted key locking latches are available
BE PREPARED BEFORE DISASTER STRIKES
Emergency Case is revolutionizing the way we approach disaster preparedness. Our emergency food and water supplies surpass the U.S. Government suggested preparedness guidelines and more.