This pack design sets the necessary foundation needed for survival  based on our 5 kit emergency system, supporting 2 people for 4 days
$249
If you become stranded on the side of the road, came upon a serious accident or if your vehicle broke down, would you be prepared?
The Emergency Case Echo Pack offers essential emergency equipment for your vehicle or workplace. Backed and approved by First Responders and Community Emergency Response Team members, our backpack is rated one of the top quality emergency equipment.
Our Echo Pack was developed by former military, law enforcement and first responders using our 5 kit survival system. Our products surpass all current emergency preparedness regulations set by FEMA, US Coast Guard and Department of Homeland Security.
Our Echo Pack is based off of our 5 kit emergency system:
Food & water survival kit (96 hours)
Sleep & shelter survival kit
Advanced medical survival kit
Tools & safety survival kit
Health & hygiene survival kit
The Mobile Echo Pack has everything you need for any type of natural or man-made disaster.
One mobile pack, with the right supplies on-hand, in one location
Emergency signalling mylar sleeping bag
Coast Guard Approved 3-5 year food and water shelf
Rip and Eat Meals – No cooking, heating or adding water required
Surpasses all FEMA and Red Cross suggested supply list for emergencies
Our Echo Pack can support 2 people for 4 days and is designed to provide top quality survival gear you need.
Don't gamble with your safety and don't bet against mother nature. Take care of you and your loved ones before disaster strikes.
American made
Estimated Food Shelf Life: 3-5 years 
Estimated Water Shelf Life: 5 years
Weight: 16 LBS
We cannot control when, where, or how disasters strike. But we can control how prepared we are to deal with a disaster. When every second counts, having a plan and the tools to see that plan through are crucial to survival.
Being prepared and having a plan in the workplace is just as important as having one for your home. Disaster and other emergencies can strike without warning. If not prepared, it could leave you confined, secluded and vulnerable for several hours or even days.
Emergency preparedness should include the critical necessities for your employees survival in case you have to shelter in place following a natural disaster or even terrorism.
Emergency Case Mobile Series provides a complete selection of emergency signaling, lighting, survival, automotive, personal, and first aid products to protect one or more persons in the event of a roadside emergency until help arrives.
FEMA, Emergency Case, and the State of California recommend you have these supplies on hand for emergency survival.
Our team of experts spent years on product research, development and testing before choosing reliable survival gear so you wouldn't have to.
Our Emergency Case product lines are the perfect solution for families who want to be prepared but don't know where to start.
Food & Water
2 3600 Calorie Food Bars (5 Year, Coast Guard Approved)
3 Ready To Eat Sandwiches (3 Year)
20 Air-Tight Sterilized Water Pouches
Sleep & Shelter
2 All Weather Thermo Emergency Sleeping Bag
2 Norwegian Military Ponchos
Tools & Safety
1 NOAA AM/FM Weather Radio
1 High Visibility Vest
1 Hands Free LED Headlamp
1 6-in-1 Emergency Preparedness Knife
1 7-in-1 Multi-Purpose Folding Shovel / Axe
2 3M HEPA Masks (N95)
1 Pair of Durable Working Gloves
2 Bic Lighter
1 550 Cord (25 Feet)
1 Roll of High Visibility Duct Tape
2 Carabiners
1 Velcro Strap (5 Feet)
20 Multi-Use Zip Tie
1 Pack of Waterproof Matches
1 Emergency Whistle with Coil Bracelet
1 Emergency Rescue Signal Mirror
1 Permanent Black Marker
1 Military Can Opener
1 Water Resistant Organizing Packing Cube
Health & Hygiene
1 Pack of Hygiene Wipes (Resealable)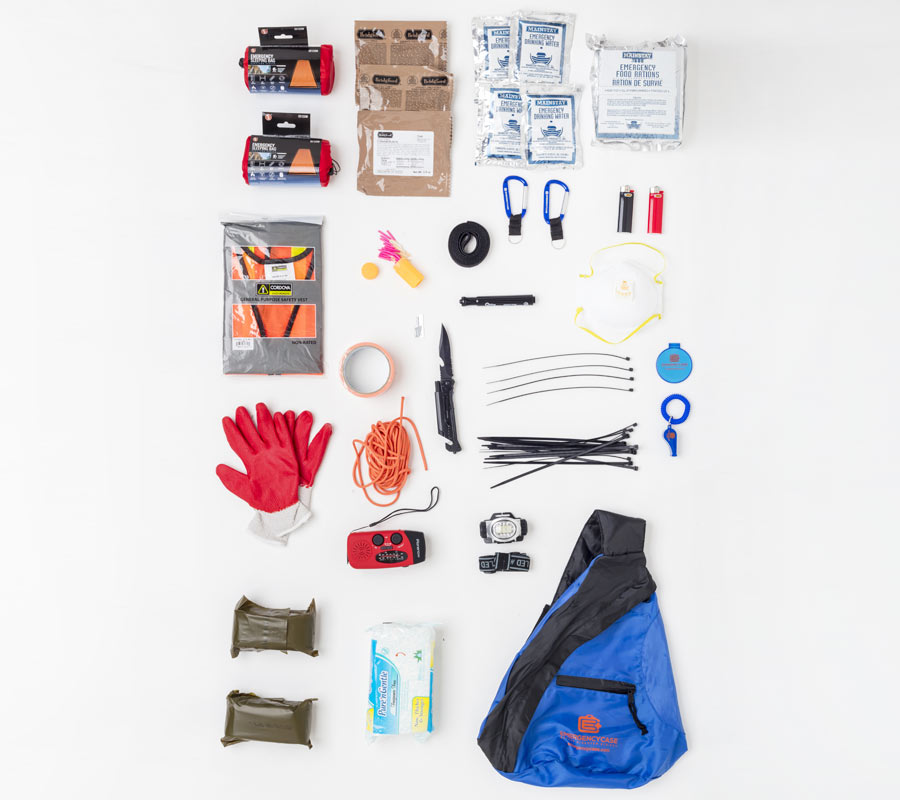 1 First Aid Book
1 Rescue Application Tourniquet
1 Compact Universal Splint
1 Triangular Bandage with 2 Safety Pins
1 Biohazard Waste Bag
5 Pairs of Surgical Gloves
1 Pair of Trauma Shears
1 Pair of Precision Stainless Steel Tweezers
2 Personal Antimicrobial Wipes
2 Burn Gel Packets
3 Iodine Prep Pads
2 Surgical Cloth Tape
2 Gauze Wraps
4 Gauze Pads
2 Non-Adherent Dressings
1 Elastic Bandage Wrap
2 10"x30" Trauma Pads
2 Wound Closure Strips
1 Aspirin 2-Pack
3 Diamode 1-Pack
3 Diotame 2-Pack
3 Antihistamine 1-Pack
3 Ibuprofen 2-Pack
3 Triple Antibiotic Ointment Packets
30 Band-Aids
6 Knuckle Band-Aids
6 Moleskin Bandages
1 Water Resistant Organizing Packing Cube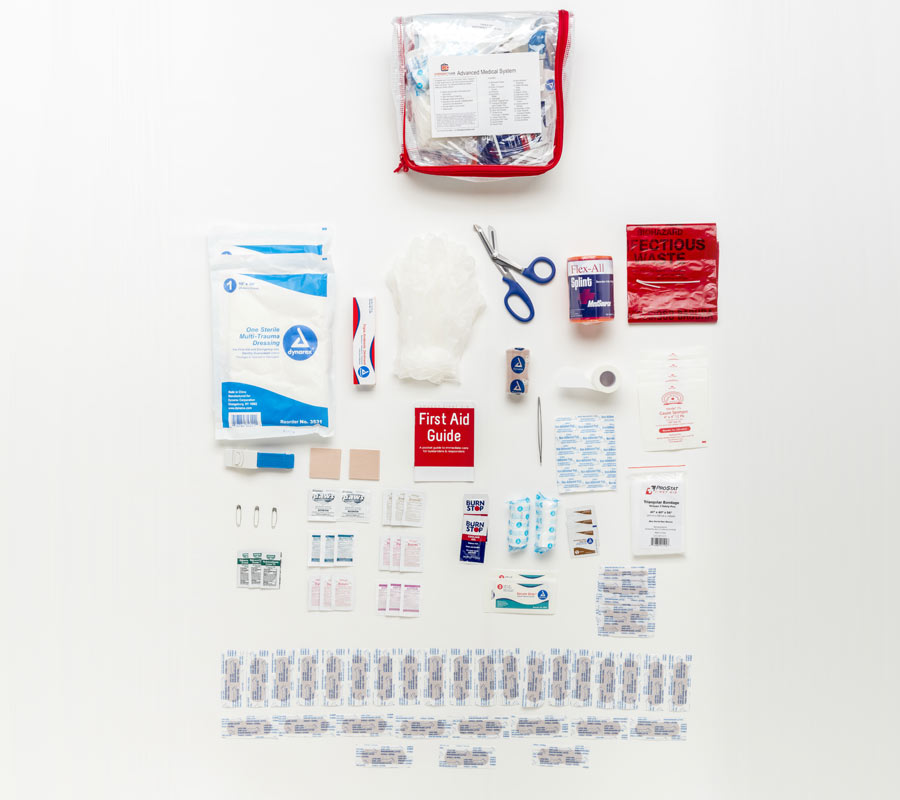 BE PREPARED BEFORE DISASTER STRIKES
The Mobile Echo Pack has everything you need for any type of natural or man-made disaster.