Premium Grade Car Emergency Case
Designed to provide a sense of safety and security to even the most experienced drivers on American roads today, sustaining 2 people for at least 4 days based on our 5 kit emergency system
$479
The Mobile Road Series by Emergency Case was professionally designed to provide a sense of safety and security to even the most experienced drivers on American roads today.
Our case is crafted with a very strong and sturdy polymer design casing that protects your valuable emergency supplies anywhere you store them. Lightweight and compact, this case will hold, store, and protect everything you need for life's unexpected events.
All of the 5 system emergency kits and roadside equipment were expertly handpicked and tested to ensure the highest quality products to our customers.
The 5 Kit Emergency System surpasses the U.S. Government suggested preparedness guidelines and more.
Our highly durable, airtight, waterproof case is based off of our 5 kit emergency system:
Food & water survival kit (96 hours. No cooking or adding water to food required.)
Sleep & shelter survival kit
Advanced medical survival kit
Tools & safety survival kit
Health & hygiene survival kit
The Premium Grade Car Emergency Case has everything you need for any type of natural or man-made disaster.
STORE ANYWHERE AND EVACUATE IN 60 SECONDS: Easy to carry, mobile, highly durable, lockable, waterproof case based off the 5 kit emergency system
BASED ON THE 5 KIT EMERGENCY SYSTEM: Food & Water Kit, Sleep & Shelter Kit, Advanced Medical Kit, Tools & Safety Kit, Health & Hygiene Kit. INCLUDES water filtration system.
PROFESSIONALLY DESIGNED: First Responder, Law Enforcement, Military and CERT personnel contributed to the creation of our 5 kit emergency system. Surpassing the FEMA U.S. Govt suggested preparedness guidelines and more.
READY FOR ALL DISASTERS: Earthquake, Flood, Tornado, Hurricane, Tsunami, Wildfire. For home, office, auto and travel.
100% MONEY-BACK GUARANTEE: Our USA-based customer service team will make sure you are happy with your purchase. EC products are designed and tested by experts who understand the need for the best quality and dependability. The only thing we don't guarantee is this special pricing – Buy your Emergency Case today and don't be disappointed.
The Premium Grade Car Emergency Case provides a versatility unlike any other product on the market.
Winter storms, dead car battery, minor breakdowns or an accidental fender bender, this case offers the most protection for you and your family.
This case is perfect for the first time car owner and the seasoned automotive enthusiast.
Plus, it makes a great gift for teen drivers, college students, young families, parents, grandparents, employees, personal vehicles, RV's and company fleet.
Give yourself peace of mind and be ready for any unexpected road emergencies with the Premium Grade Car Emergency Case today!
American made
Waterproof
Watertight
Resistant to corrosion and impact damage
TSA approved locking system
Easy to open patented "trigger release" latch system
Estimated Food Shelf Life: 3-5 years 
Estimated Water Shelf Life: 5 years
Inner Dimensions/Weight: 20″ x 15″ x 7″, 35 lbs
We cannot control when, where, or how disasters strike. But we can control how prepared we are to deal with a disaster. When every second counts, having a plan and the tools to see that plan through are crucial to survival.
Emergency Case Mobile Series provides a complete selection of emergency signaling, lighting, survival, automotive, personal, and first aid products to protect one or more persons in the event of a roadside emergency until help arrives.
An Premium Grade Car Emergency Case is a necessary addition to keep in the trunk of your car, or at your office desk. 
FEMA, Emergency Case, and the State of California recommend you have these supplies on hand for emergency survival.
Our team of experts spent years on product research, development and testing before choosing reliable survival gear so you wouldn't have to.
Our Emergency Case product lines are the perfect solution for families who want to be prepared but don't know where to start.

Food & Water
2 3600 Calorie Food Bars (5 Year, Coast Guard Approved)
3 Ready To Eat Sandwiches (3 Year)
20 Air-Tight Sterilized Water Pouches
1 Collapsible Water Bottle (Mini Sawyer Compatible)
1 Water Resistant Organizing Packing Cube
Sleep & Shelter
2 All Weather Thermo Emergency Sleeping Bag
2 Norwegian Military Ponchos
Tools & Safety
1 Can of Fix-A-Flat (20 Ounces)
1 Heavy Duty Jumper Cables
1 High Visibility (Braided) Tow Rope
1 No-Scratch Brass Blade Ice Scraper
4 Easy-to-Snap 12 Hr+ Lightsticks
1 "Help Me" Sign
1 USB Portable Solar Charger with LED Flashlight
1 NOAA AM/FM Weather Radio
1 Mini Sawyer Water Filtration System (100,000 Gallons)
1 High Visibility Vest
1 Hands Free LED Headlamp
1 6-in-1 Emergency Preparedness Knife
1 7-in-1 Multi-Purpose Folding Shovel / Axe
1 Portable Slingbag Backpack
2 3M HEPA Masks (N95)
1 Pair of Durable Working Gloves
2 Bic Lighter 1 550 Cord (25 Feet)
1 Roll of High Visibility Duct Tape
2 Carabiners
1 Velcro Strap (5 Feet)
20 Multi-Use Zip Tie
1 Pack of Waterproof Matches
1 Emergency Whistle with Coil Bracelet
1 Emergency Rescue Signal Mirror
1 Permanent Black Marker
1 Military Can Opener
2 Water Resistant Organizing Packing Cube
Health & Hygiene
1 Pack of Hygiene Wipes (Resealable)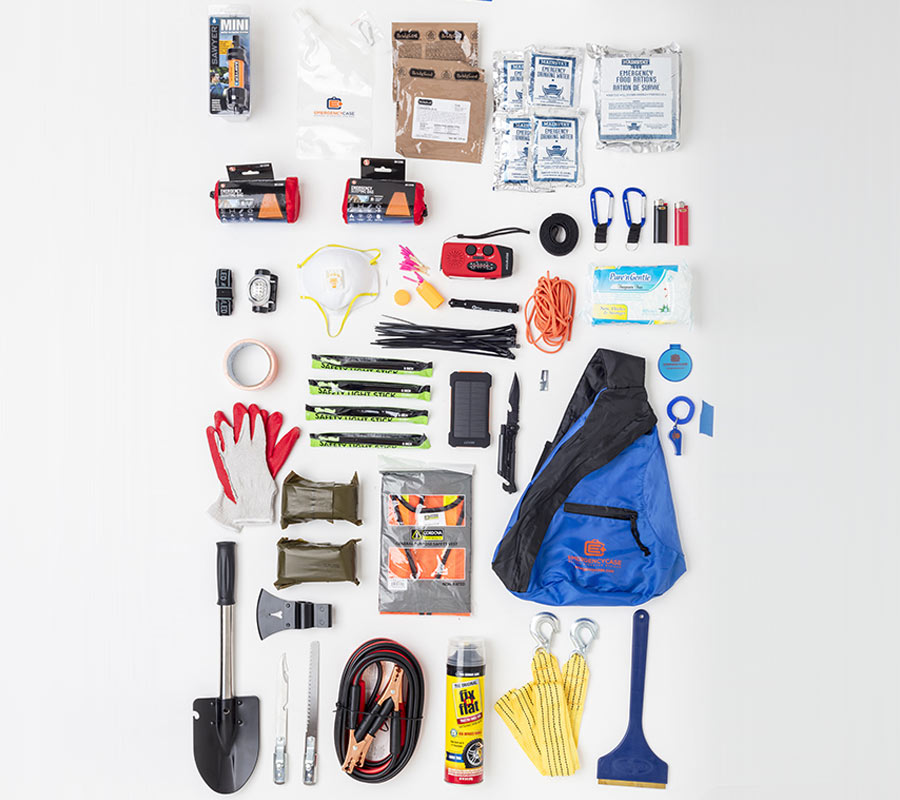 1 First Aid Book
1 Rescue Application Tourniquet
1 Compact Universal Splint
1 Triangular Bandage with 2 Safety Pins
1 Biohazard Waste Bag
5 Pairs of Surgical Gloves
1 Pair of Trauma Shears
1 Pair of Precision Stainless Steel Tweezers
2 Personal Antimicrobial Wipes
2 Burn Gel Packets
3 Iodine Prep Pads
2 Surgical Cloth Tape
2 Gauze Wraps
4 Gauze Pads
2 Non-Adherent Dressings
1 Elastic Bandage Wrap
2 10"x30" Trauma Pads
2 Wound Closure Strips
1 Aspirin 2-Pack
3 Diamode 1-Pack
3 Diotame 2-Pack
3 Antihistamine 1-Pack
3 Ibuprofen 2-Pack
3 Triple Antibiotic Ointment Packets
30 Band-Aids
6 Knuckle Band-Aids
6 Moleskin Bandages
1 Water Resistant Organizing Packing Cube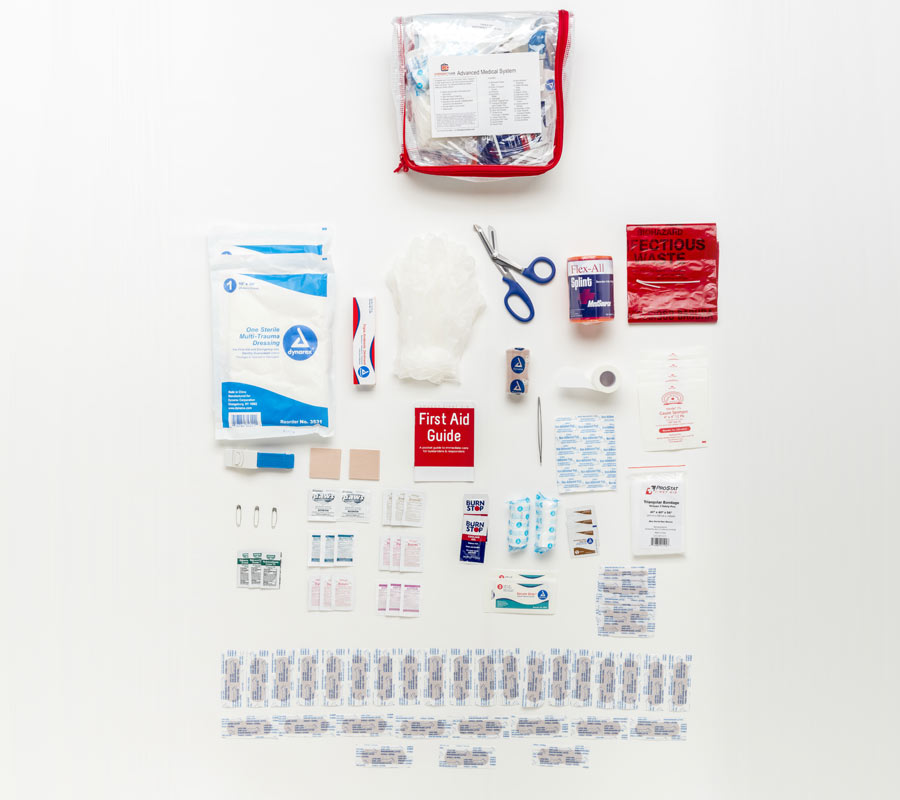 Ultra high-strength polypropylene copolymer resin
UV, solvent, corrosion and fungus resistant
Complete gasket seal makes these cases absolutely watertight
Automatic ambient pressure equalization value
Resistant to corrosion and impact damage
Molded-in hinge
Patented "trigger release" latch system
Rubber over-molded cushion grip handle
Stainless steel locking loops to accept a customer supplied lock
TSA accepted key locking latches are available
BE PREPARED BEFORE DISASTER STRIKES
The Premium Grade Car Emergency Case has everything you need for any type of natural or man-made disaster.